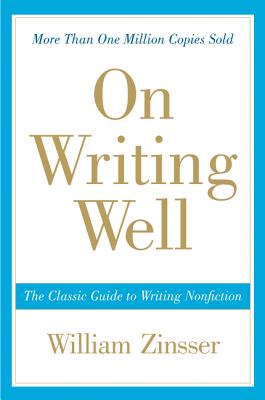 I've been writing often on this site lately, so I decided to listen to the audio version of On Writing Well: The Classic Guide to Writing Nonfiction by William Zinsser. The book was highly recommended by Derek Sivers. More than a collection of grammatical rules and techniques, On Writing Well is a common sense guide on how to keep your writing concise and engaging. Here are the passages and concepts that resonated with me:
Writing: Art or Craft?
Writing is a craft, like carpentry or plumbing. As any craft, it has its tools. The tools of writing are words.
Re-Writing is more important than writing. Writing never comes out right the first time around.
The Principles of Good Writing
Clarity
Simplicity
Brevity
Humanity
1. Clarity
Clarity is the goal in writing.
The reader must understand exactly what you mean.
Read your sentences aloud to see if they are clear.
2. Simplicity
Remove clutter from your writing.
Rid your writing of any pretentiousness, pomposity and fat.
Use simple words: don't use "assistance" when you can say "help". Don't use "I'm congnizant of" when you can say "I know".
Writing is hard: easy writing makes hard reading.
3. Brevity
Short is better than long: short sentences are better than long sentences.
Cut your writing by 50%!
Things you can cut:

Adverbs (loudly, thoroughly, etc.). Most of the time, the verb is enough.
Most adjectives.
Qualifiers: "sort of", "a little bit", etc.
Anouncing what you're about to say: "As you probably may have noticed…"
4. Humanity
Write the way you talk. If you don't speak a certain way, don't write it that way.
Sound like a person.
You are writing for YOU.
You don't need to be an expert about a subject. You just need to be interested.
Your style is your personality in writing.
Don't try to be ornate or pretentious.
Attitude
All writers are driven by ego.
Self-esteem is important: write about what YOU want.
If you want to write compelling stories, you need self-esteem.
Who are you writing for? You!
Your writing is the gift of who you are.
Discipline
Many times you won't feel like writing, so you need strong discipline and work habits.
The reader has to believe that the writer is feeling good.
You learn to write by writing.
There is no right or wrong way to write: some write a full text and then review. Others write one paragraph and re-writes it often before moving to the next.
There is no right or wrong time to write but you need to establish a routine for writing and stick to it.
Re-writing will give you pleasure.
How-To Tips
Writing is visual. Good writing catches the eye before it catches the brain.
Use plain words that you can relate to.
Use active verbs: active verbs give momentum to a sentence and helps you picture who did what.
One-syllable active verbs are the best.
Eliminate passive verbs: they remove the person from the sentence, and force you to come up with a passive noun.
Use short, simple nouns that we all know.
Bad nouns are usually of latin origin: orientation, implementation, etc. (too long and sound pretentious).
If you are not an expert on a subject just show sincerity.
To write good English you have to read good English.
Find role-models and imitate them.
Write with your "ear": rhythm, cadence, musicality are very important. Read your sentences aloud to see if they sound write.
If a sentence doesn't "sound" right, re-write it.
Make sure that your sentences are well connected, otherwise you will lose your reader.
Information and Narrative
There is nothing more interesting (and effective) than the truth.
Don't try to explain what is already clear.
Sincerity is your most important credential.
Narratives: everybody loves stories. Tell a story.
Make ample use of quotes. Quotes are the best way to convey what people think, say or feel.
Quotes make your writing credible and interesting.
Learn the skill of interviewing.
Interview with pen and paper, not a recording device.
Alternate quotes with your writing.
A good interviewer has to generate trust.
Be true to yourself!